Why Should You Exfoliate?
Because everyone said so, right? Why should you do it then?
Simply put, it is to remove the dead skin cells from the top most layer of your skin. As we age, the body cannot get rid of the dead skin layer as easily. This dreaded layer can dull skin, stop skin care products from reaching the inner layers of skin, and cause ingrown hair when you shave. Yes, the whole body needs some serious dead skin removal. I am sure that you have (or eventually will have) something that you swear by. For me, I love trying new things, so here are a few that I have tried and loved.
This list is a combination of physical and chemical exfoliating products. Basically, chemical exfoliate has two types:  alpha-hydroxy acids (glycolic acid and lactic acids), and beta-hydroxy acids (salicylic acid). Usually you will find that the products either list AHA, BHA or the actual acid in the ingredients list. Physical exfoliating products are like brushes, or those with beads to physically remove dirt and dead skin from the top layer
My Top 6
1. Dermalogica's Age Smart Multivitamin Thermafoliant
Dermalogica has a lot of exfoliants, this one is my favorite of all. Because it has thermal technology and antioxidants. Basically this is a multitasking exfoliate, you can use it dry as well. I was taught by a consultant to apply it dry or minimal water, do a good cleanse before stepping into the shower. I love the thermal feel (it heats up) during the wash, to improve blood circulation, the antioxidants to protect my skin after I removed the dead layer. Viola!
 2. Clinique's Sonic System Purifying Cleansing Brush
This is Clinique's system, but there are many out there that may suit your budget needs. Something like Clarisonic Mia
or Olay's Cleansing System
 if you are more inclined. I like Clinque's because it is gentle, and it uses sonic system that vibrates out the dirt as well as brushing. For sensitive skin, or one with a stubborn T- zone like mine. My pick for when I am home. I do not bring it with my during my travels, because of the charging and space it takes up.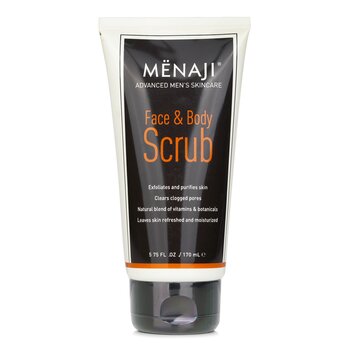 For body scrubs, I usually choose ones that are face friendly too. Sometimes I shower at the gym, so this is my go to body/ face scrub when I am there. This Menaji Scrub is made up of organic lime peel oil, jojoba oil, azulene and aloe. I am aware that Menaji is marketed for men, but who says that women cannot use it too? This is such a wonderful product, and it does not contain harsh chemicals that will strip the skin off natural oils. So hell with the label, just give this a go.
4. Guinot Exfoliating Body Scrub
Before Menaji, I used to love those with beads, or something that has that scrubby feeling.
A word of caution: do not buy those with microbeads! Microbeads are actually made up of tiny plastic beads that are not biodegradable, and the fish in the ocean or waterways will eat them. Being plastic, they are not digestible too! Care for the environment and avoid microbeads.
This one contains Loofah fibres, loofah is a vine from a tropical gourd from the cucumber family.
If you have bought the whole thing as a body scrub, then you would know. Loofah is biodegradable, because it is a vine. Hence it gives me the scrubby feel without the guilt. Guinot's also have foaming gel texture to give the skin an extra cleanse, just in case the Loofah does not do a good enough job.
By the way, this is not the same as using the Loofah strip or sponge. This one you do not reuse, unlike the strip. Many people say that you are redistributing the bacteria on the sponge all over your body again (ewww). If that mental image disturbs you, probably get this one.
5. Ella Bache Eternal Resurfacing Peeling Of Eternity
I like Ella Bache has a skincare brand, because some of it is good enough to eat! Well, not this one. It contains apple vinegar, AHA, Green Tea and diglycerin, so this is an extremely gentle neutral enzymatic exfoliate for those who cannot tolerate aggressive peels or physical abuse. You deserve to have beautiful skin, and it does have to start from a good skin regimen. I like this one when I was younger (read long time ago), when I did not need a stronger cleaner to rid myself of dead skin. As you get older, the layer gets harder to remove because the body becomes lazier *sigh*
6. Eminence Rosehip and Maize Exfoliating Masque
Back in the days when I had no kids, this exfoliating mask would be my choice. During summer, my skin just gets oilier and breakouts will happen. This one contains salicylic acid and lemon juice, combined with rosehip and maize. Even though it is gentle enough for sensitive skin, I would not recommend that you leave this on for longer than recommended. Sometimes I would even wash it off earlier, because salicylic acid can be quite harsh if you leave it on for too long. I have since moved on to those that does not require me to leave in, because I still want to have some skin on my face.
Take Your Pick, But Remember
There are many choices to exfoliate your skin, no reason to skip this vital step.
Click To Tweet
If you are someone who values the work your skin does to protect you from harm, then do look after it well. Our skin is not just a symbol of beauty and grace, it is the most important organ of our body. Without skin, bacteria can invade, and we would be frequently waterlogged. Thank your skin by looking after it, a good skin care regimen will keep your skin looking like a champion.
Of course, you should be picking something that suits you and your lifestyle, luckily we are spoiled for choices in the world.
Copyright © 2017 Read Try Write. All Rights Reserved.